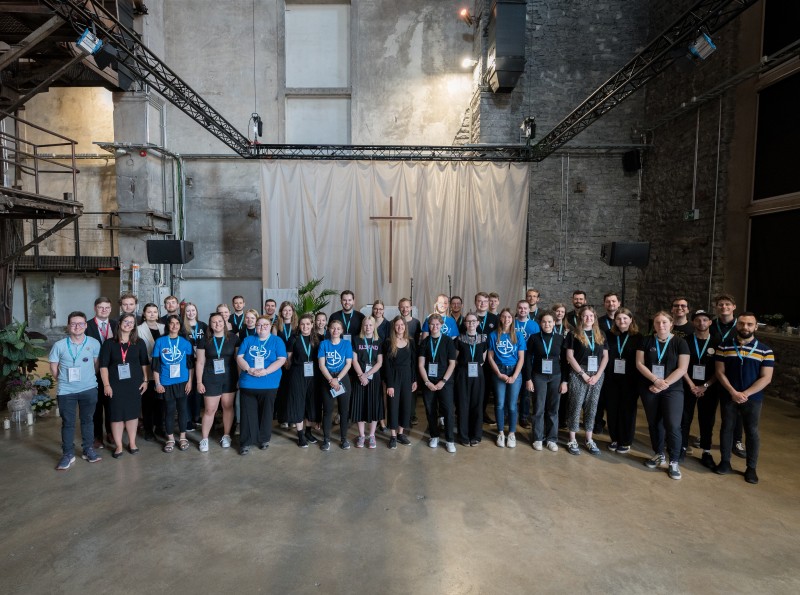 Photo: Albin Hillert/CEC
Press Release No: 12/23
15 June 2023
Tallinn
Thirty-seven young people from all over Europe were already busy working as stewards hours before the Conference of European Churches (CEC) General Assembly officially began in Tallinn, Estonia on 15 June.
From organising the plenary sessions, to taking photos and running errands, the stewards cheerfully carried a heavy workload and a lot of hope for their experience at the assembly.
For many of them, it's their first experience of this kind of gathering. Björn Peter Blumenhagen, from the Evangelical Lutheran Church in Northern Germany, heard about the opportunity through a friend, and has taken a short break from his studies in Protestant theology in Hamburg to attend the CEC assembly.
"Sometimes I hear about these gatherings but I've never been to one, so I'd like to see how they work," said Blumenhagen. "I also want to make contacts and friendships, and I've been enjoying the city of Tallinn and its people."
After two days together, friendship among stewards is blossoming. "It's amazing how open and kind people are," said Rebecca Oetken, from the Protestant Church in Germany. "My hope for this assembly is to learn about the beliefs of others so I can improve my own."
Iris Borg Rundqvist and Ida Malmström, both from the Church of Sweden, have met for the first time through their role as stewards. "I hope to learn new skills, meet new people, and make new friends," said Rundqvist.
Malmström expressed her hopes as well. "I want to learn more about ecumenical life — see how it really works," she said.
CEC President Rev. Christian Krieger expressed great joy at the turnout of young people for the assembly. "CEC was created to overcome boundaries and to build bridges," he said. "Enjoy doing this in these days."
Photo gallery: https://www.flickr.com/photos/193971489@N08/
For more information or an interview, please contact:
Naveen Qayyum
Communication Officer
Conference of European Churches
Rue Joseph II, 174 B-1000 Brussels
Tel. +32 486 75 82 36
E-mail: naveen@cec-kek.be
Website: www.ceceurope.org
Facebook: www.facebook.com/ceceurope
Twitter: @ceceurope
YouTube: Conference of European Churches
Subscribe to CEC news