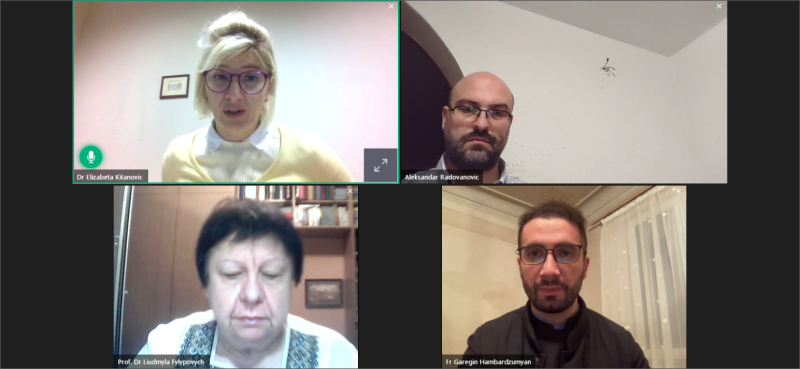 Press Release No: 20/23
7 November 2023
Brussels
The importance of protecting worship places and cultural heritage sites was emphasised in a recent webinar organised by the Conference of European Churches (CEC). Speakers shared examples from Ukraine, Nagorno-Karabakh (Artsakh) and Kosovo (1244) about attacks on places of worship, proposing how churches, governments and international organisations can help.
The webinar was held on 30 October as part of CEC's Pathways to Peace initiative and to mark the 10th Anniversary of CEC Summer School on Human Rights, featuring Christian perspectives from across Europe, with engagement from international organisations.
Prof. Dr Liudmyla Fylypovych from the Institute of Philosophy of National Academy of Sciences of Ukraine shared how the protection of religious buildings is a significant issue for Ukraine. "Since the beginning of the war, and especially with the time of the large-scale Russian invasion of Ukraine, when active shelling, missile strikes, aerial bombardment, destruction of the material and human resources of Ukraine began, the issue of religious buildings escalated to the maximum."
She said that "it is important not only to identify destroyed and damaged monuments but also to protect them legally, physically, financially, informatively and methodically."
Fylypovych made recommendations to help raise awareness, sharing how European churches can support the restoration of destroyed religious buildings that have cultural and religious value.
Preserving cultural heritage is essential
"Several religious sites in Artsakh are under attack," said Fr Garegin Hambardzumian, head of the Department of Preservation of Cultural Heritage of Artsakh, Armenian Apostolic Church.
He shared how the Holy Savior Cathedral of Shushi was twice hit by long-range Azerbaijani missiles during the war of 2020, among many other attacks, which he said are an "attempt by Azerbaijan to appropriate Armenian cultural heritage". "Currently, there are almost 4000 historical and cultural monuments, including more than 400 chapels, churches, and monasteries under Azerbaijani control, that are faced with an immediate threat of vandalism and destruction."
"Preserving cultural heritage is essential for all people of the world," Hambardzumian added. "Culture is an integral part of national identity and targeting cultural heritage can be an attack on peoples' national, ethnic, racial or religious right to exist."
Awareness on the security of worship places
Aleksandar Radovanović, attorney at law and chief Legal Advisor, Diocese of Raška – Prizren, Kosovo, shared an analysis of the security situation in Kosovo (1244), describing clashes between the Serbs and Albanian officials, and the challenges faced by the Serbian Orthodox Church during the conflict.
"We are denied access to the churches. Centuries-old graveyards have been desecrated, and there is cultural appropriation of holy sites in Kosovo. The international community needs to be aware and help implement laws that ensure the security of worship places," added Radovanović.
"Wars and conflicts challenge both the protection of worship places and cultural heritage sites, as well as the resilience of religious communities," said Dr Elizabeta Kitanovic, CEC Programme Officer for Advocacy and Dialogue, who moderated the webinar.
"Targeting places of worship has become a weapon employed both in geopolitical conflicts and by totalitarian ideologies. Many innocent people struggling for peace in their contexts have lost their lives. The wounds, the memories, and the humiliation that result from attacks on places of worship provoke and feed ongoing disputes, lasting prejudice while giving rise to hatred."
"How can we, as European churches, using the Pathways to Peace initiative, strengthen advocacy for the security of the worship places, that in one way or another, represent part of the cultural heritage, not only for the followers of a particular faith but for the entire humanity," added Kitanovic.
Learn more about Pathways to Peace
For more information or an interview, please contact:
Naveen Qayyum
Communication Officer
Conference of European Churches
Rue Joseph II, 174 B-1000 Brussels
Tel. +32 486 75 82 36
E-mail: naveen@cec-kek.be
Website: www.ceceurope.org
Facebook: www.facebook.com/ceceurope
Twitter: @ceceurope
YouTube: Conference of European Churches
Subscribe to CEC news